L19 Anti-vandal Illuminated Push Button Switch
The L19 anti-vandal illuminated push button switch is dust and water resistant to an IP65 rating. Featuring multiple actuator options, the switch have a long life expectancy of a million mechanical cycles.
They offer multiple illumination colors, including bi-color LED and RGB LED options. Both dot and ring illumination are available, including a graphics option of power symbol etching or illuminated (with ring illumination).
The L19 illuminated push button switch is meant for a panel cutout sized of 19mm in diameter.
L19 Anti-vandal Illuminated Push Button Switch
The L19 anti-vandal illuminated push button switch is available with multiple finishes, including a black anodized finish. Single pole or double pole circuits are also available for performing maintained and momentary functions and double break functions.
Standard wire leads are also available.
IP65 rated for dust and moisture protection
19mm diameter panel cutout
Dot and ring illuminated; RGB LED illumination available
1 or 2 poles; maintained (latching), momentary, and double break pushbuttons
Kiosk and ticket dispensers applications
Industrial controls
Audio/visual
Medical equipment
Electrical housewares
Security devices
Notes:
* Base voltage on LEDs: 1.8V @ 20mA for Red, Yellow and Orange LED colors / 2.8V @ 20mA for Blue, Green and White LED colors
** 5 ICON labels included check backlit label kit page, No illumination options(code examples: L19LM1SW)
Type
L19-F
L19-F-R
L19-F-D
Illuminated Options
Non-Illuminated
Ring Illuminated
Dot Illuminated
Max. Panel Thickness:
0.394″ (10.0mm)
Terminal
Screw and Solder lug (2.8 x 0.5)
Max. Switch Rating
Ith: 5A Ui: 250VAC
Contact Resistance
≤50mΩ
Insulation Resistance
≥1000mΩ
Dielectric Strengh
2000VAC
Operation Temp.
-20°C ~ +55°C
Mechanical Life
1,000,000cycles
Electrical Life
>50,000cycles
Contact Material
Silver Alloy
Torque
5 ~ 14Nm
Operation Pressure
approx. 3 ~ 8N
Protection
IP65/ IK10
Material
Actuator
Stainless Steel/ Anodized Aluminum
Body
Stainless Steel/ Anodized Aluminum
Base
PA
Color
Type
LED (ratings @ 20mA)
Color
Luminous Intensity (mcd)
160
200
150
520
220
2000
Forward Volatge
1.8~2.6
2.8~3.6
Illumination Voltage
no suffix No resistor fitted. An appropriate resistor must be series connected by the user. Voltages as above.
3.3V/ 6V/ 12V/ 24V/ 36V/ 110V/ 230V
Life
Approx. 40, 000hours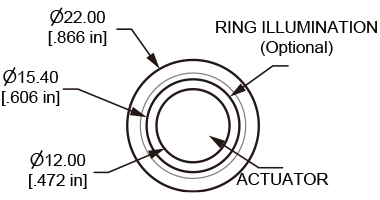 Panel cutout & Illuminated options

FAQs
What is an illuminated push button switch, and what are its key features?
An illuminated push button switch is a device that combines a push button mechanism with built-in LED lighting. It provides visual feedback and enhances visibility in various applications. Key features may include a durable construction, customizable illumination colors, and multiple switch configurations.
How does an anti-vandal switch differ from a standard push button switch?
An anti-vandal switch is designed to withstand harsh environments and resist tampering or vandalism. It features a robust construction, impact-resistant materials, and enhanced security measures, making it ideal for applications where durability and reliability are crucial.
What is the function of a momentary switch?
A momentary switch is a type of switch that is only active while it is being pressed or held down. It is commonly used for applications that require temporary or momentary activation, such as doorbell buttons or push-to-talk communication devices.
What does the IP65 rating signify for a push button switch?
An IP65 rating indicates that the push button switch is protected against dust ingress and low-pressure water jets from any direction. This rating ensures reliable operation even in challenging environments where dust, moisture, or splashing may be present.
Can the illumination of an illuminated push button switch be customized?
Yes, many illuminated push button switches offer customization options for the LED illumination, including color choices, illumination patterns, or even customizable legends or symbols.
What are the typical applications for anti-vandal switches?
Anti-vandal switches are commonly used in public access areas, industrial equipment, security systems, transportation controls, and other applications requiring durability and resistance to tampering.
Are momentary switches suitable for both indoor and outdoor use?
Yes, momentary switches are designed for both indoor and outdoor use. However, for outdoor applications, it is important to choose momentary switches with appropriate IP ratings to ensure protection against environmental factors.
Can IP65 push button switches be used in wet environments?
Yes, IP65 push button switches are designed to withstand wet environments. They are resistant to low-pressure water jets, making them suitable for use in areas where moisture or splashing may be present.
What are the advantages of an illuminated push button switch in terms of user experience?
Illuminated push button switches offer enhanced visibility, especially in low-light or dark environments. The illuminated indicators provide clear visual feedback, improving user convenience and ease of operation.
How can an anti-vandal illuminated push button switch contribute to security systems?
An anti-vandal illuminated push button switch provides reliable and tamper-resistant operation, making it an excellent choice for security systems. The illuminated feature enhances visibility, while the anti-vandal design ensures durability and resistance against unauthorized tampering.
Applications / Markets