DIN Rails -The Ultimate Guide of All the Essential Information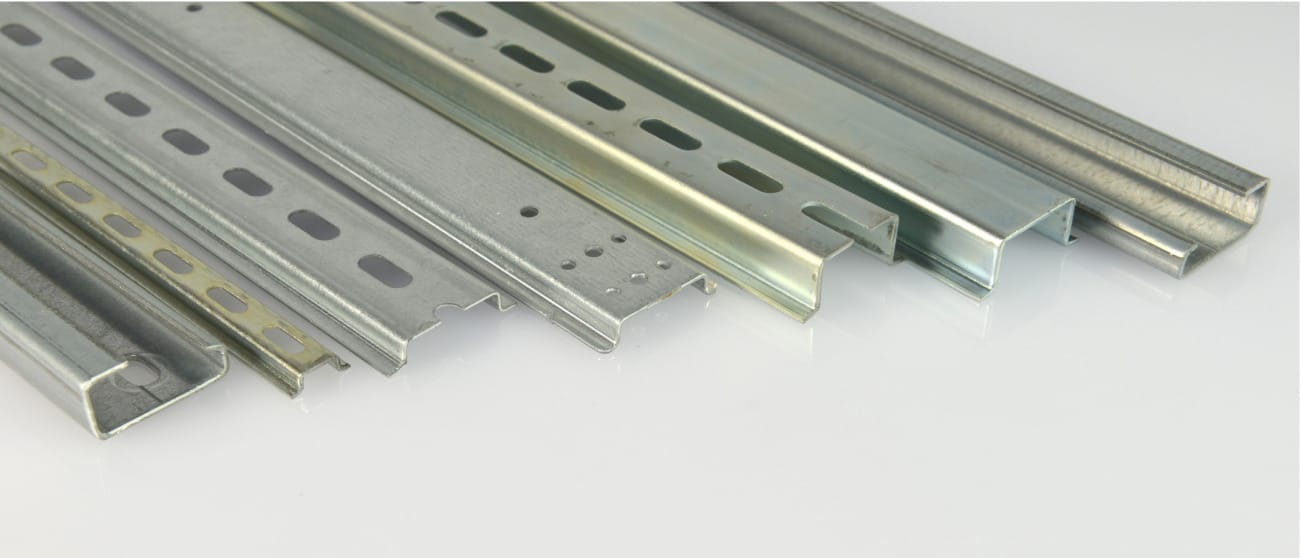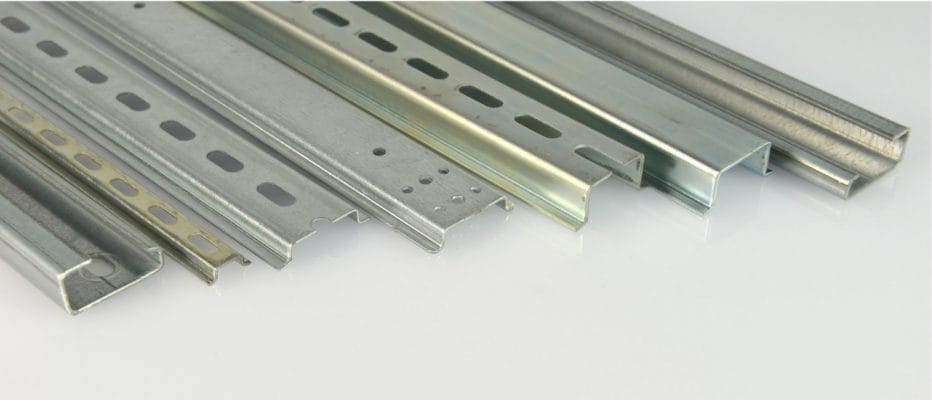 A DIN rail is a metallic structure used to mount various electrical equipment, such as relays, circuit breakers, power supplies, etc. It comes in multiple shapes and sizes and is mounted on a surface using screws or fasteners, and electrical components are fixed on it. 
It is an efficient mounting platform providing a simple method for organizing electrical components within control cabinets, junction boxes, etc. The precise construction allows you to align your electrical components according to a set wiring pattern and remove errors.
A DIN rail is constructed from different materials depending on their requirements and usage. The most common materials for manufacturing rails are:
Steel

Stainless Steel

Aluminum
DIN stands for Deutsches Institut für Normung, or German Institute for Standardization, the original developer of standards for these rails. The organization felt a need to standardize electrical equipment mounting and came up with the DIN standard. First published in 1928, the DIN standard has gone through various revisions to account for industrial innovations without changing the basic design too much.
There is a considerable demand for rails in various industries today, and their market is expected to reach $993.4 million by 2030. 
In this article, we will discuss the following:
Types & Dimensions of DIN Rails
Products Available
Benefits of Using DIN Rails
DIN Rail Applications
Installation and Maintenance of DIN Rails
How to do Maintenance of Din Rails
Marking and Labels on DIN Rails
International Standards for DIN Rails
Common Issues & Troubleshooting for DIN Rails
FAQs
Now let's dive in.
Types & Dimensions of DIN Rails 
Generally, four types of rails are defined by their measurements when viewed in cross-section. Let's discuss each of them in detail;
TS35 or Top Hat Sections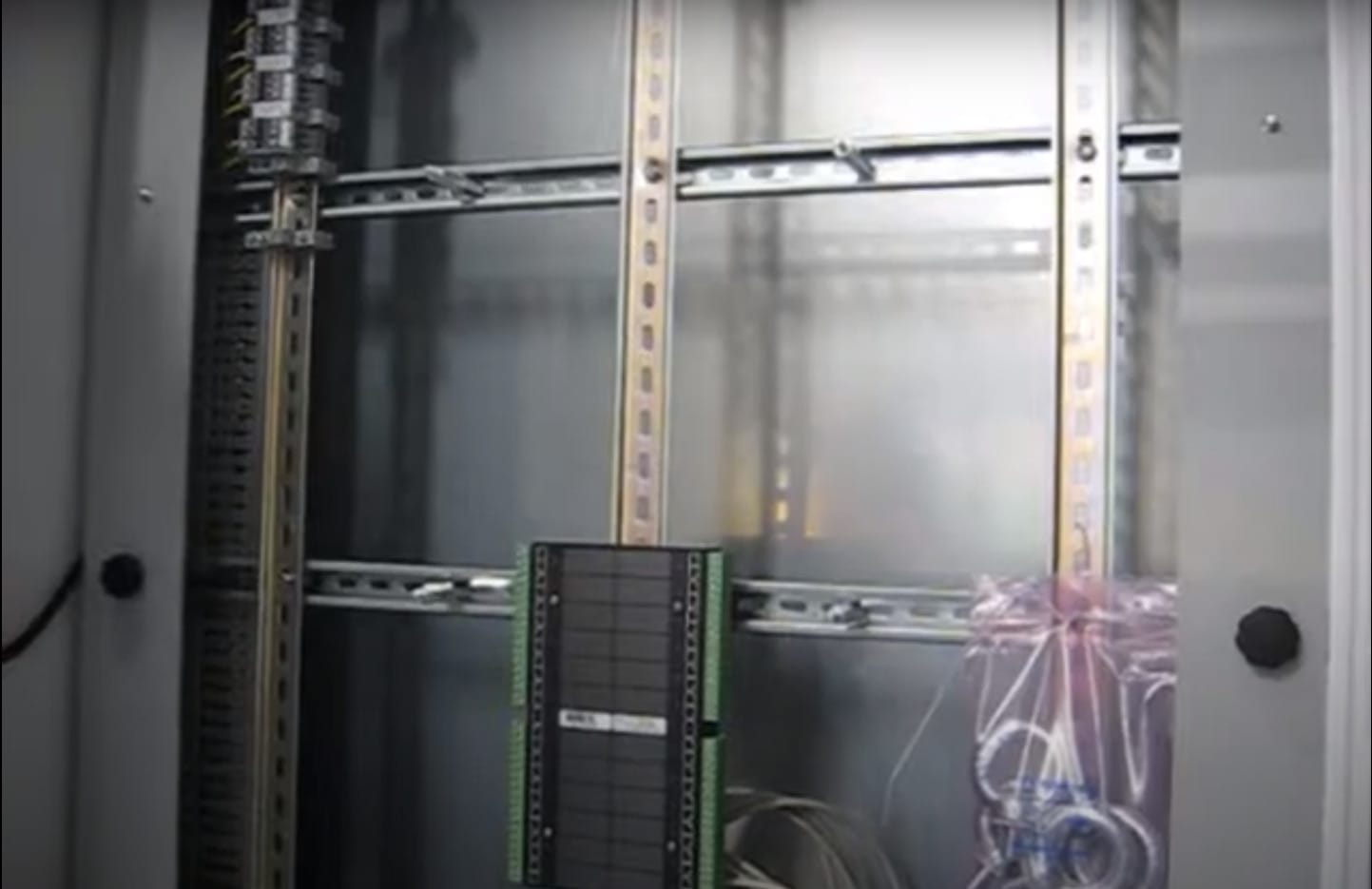 TS35 is the most readily available rail type on the market today and is considered an industry standard. It is used for mounting various electrical equipment, from circuit breakers to motor controllers to drives. The name top hat refers to its resemblance to a cross-section of a deep hat, with a 35 mm length from one edge to the other.
It is available in two channel depths:
7.55 mm, considered standard. 

15 mm, called a deep or high hat. 
Usually, 7.55 mm suffices for mounting most electrical equipment, including power supplies and circuit breakers.
TS15 or Miniature Top Hat Sections
The TS15 is precisely similar to the TS35 in shape but smaller, with an edge-to-edge width of 15 mm instead of 35 mm. With a common depth of 5.5 mm, the TS15 is also shallower than the TS35. It is usually used to mount smaller components, such as compact junction boxes and relays.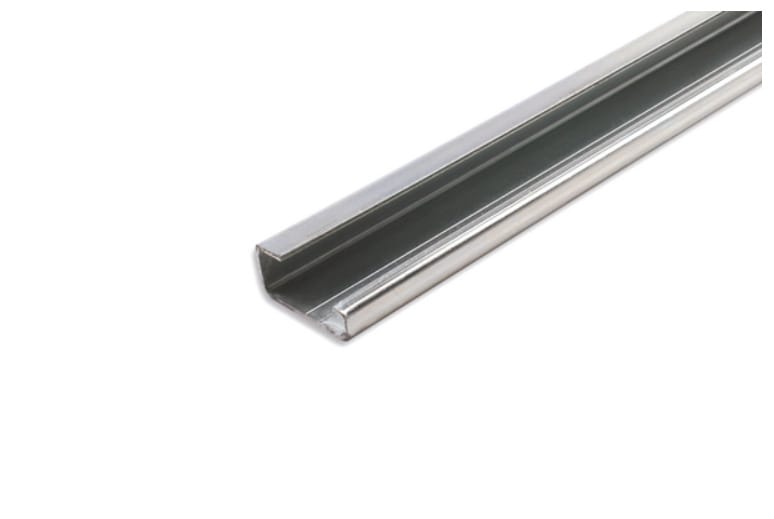 The TS32 is 32 mm wide from edge to edge, and its C-shaped cross-section is curved at the edges. It was used during the early years of rail adoption but has now mostly been replaced by TS35. However, it is still used in some places due to its incredible wall support for mounting power supplies and transformers.
For mounting modern equipment, you'll require a separate adapter with TS32. The C-section rails have different variants based on their vertical height, such as C20, C30, C40, and C50.
The G-type or J-type rails are called so because of their cross-sectional shape, which features a deeper recess on one side than the other. When you mount the rail to offer additional support for heavier equipment, then the deeper side is placed on the lower end.
This perforated steel rail is silver, with a height of 7.50mm. Since it's already perforated, you don't need to make drill holes to mount your equipment. Its steel construction provides a secure and reliable mounting base for all electrical equipment.
Unperforated Steel Din Rail 35mm×15mm
The unperforated steel rail is made of electro-galvanized steel, which gives it the strength to handle all kinds of loads. It has a depth of 15mm instead of 7.50mm, providing ample space to mount your equipment. Our unperforated rail is available in various lengths to meet your requirements.
Din Rail Support – ST Series
Our rail support comes in two series: ST and STS. ST series is manufactured from cold-rolled steel coated with a galvanic zinc plating and treated with passivation. The screw size on the ST series is 6mm, and its height is 52mm. With robust construction, it is ideal for supporting your rails in all kinds of scenarios.
Din Rail Support – STS Series
The STS series comes in 25, 50, 70, and 90mm heights and is also made from steel treated with zinc plating and passivation. The screw size on STS is also 6mm. With its quality construction, STS can offer robust support to your rails.
Benefits of Using DIN Rails 
There are countless advantages of using DIN rails. Here are a few of them; 
Save you time and space by mounting each device and component separately. 

Accommodate various equipment, regardless of shape and size, providing a versatile mounting solution. 

Help reduce clutter by allowing you to arrange all electrical equipment orderly. 

Help you with maintenance and troubleshooting by allowing easy identification of wiring and devices.
DIN Rail Applications 
Industrial & Building Automation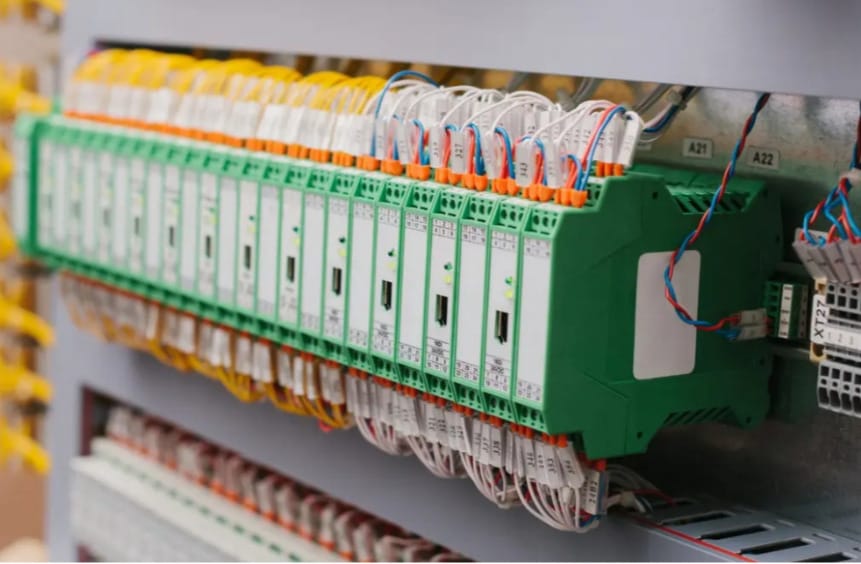 Rails are used to mount programmable logic controllers (PLCs) and other automation equipment in different industries. Moreover, they are handy for mounting various devices in building automation systems, such as relays and timers for controlling HVAC, lighting, and other systems.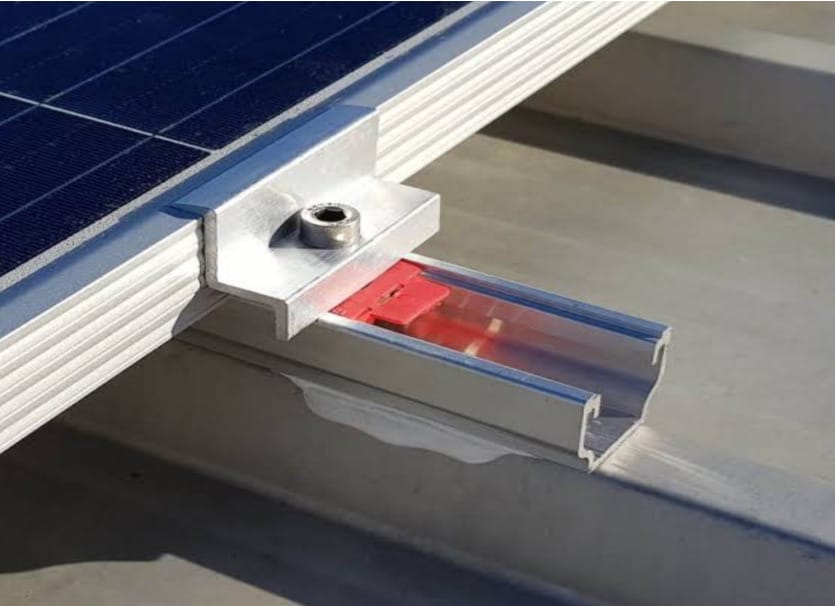 They are used to mount different electrical equipment in renewable energy systems, such as solar & wind power. These rails are perfectly suited for mounting inverters, charge controllers, battery management systems, etc.
Power Management & Light Control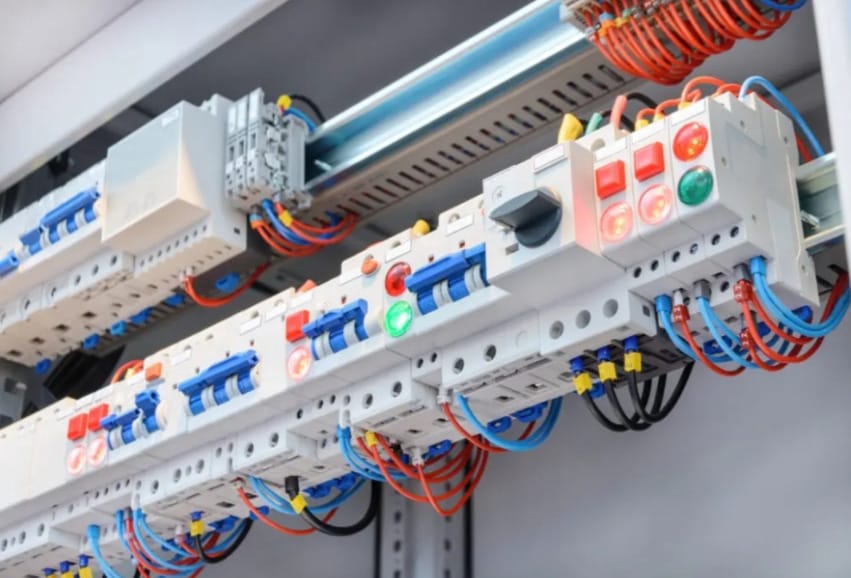 Rails are ideal for mounting power distribution and energy management devices, such as meters, power factor correction equipment, etc. Similarly, they are well suited for mounting lighting control devices like timers, sensors, dimmer switches, etc.
Here's a simple step-by-step process to mount a rail quickly;
Step 1:

Choose the appropriate rail type and size for your application. 

Step 2:

Make sure the surface is clean and flat using a level.

Step 3:

Fix the rail in place. You might need to use clips, given the type of rail. Use screws and fasteners to permanently fix it to the mounting surface so it doesn't wobble.

Step 4:

Install and secure your electrical equipment after installing the rail.
How to do Maintenance of Din Rails

 
Here're a few things you can do to ensure that your rails are well-maintained:
Use a soft dry cloth to clean your rails and remove dust or debris regularly. It ensures that the devices mounted on them perform optimally. 

Inspect your rails regularly to ensure there are no cracks or damage to them. Replace them immediately if you notice any damage to your electrical equipment.

Regularly check the rails to ensure they're correctly grounded. Otherwise, they can cause damage to the electrical equipment.
Marking and Labels on DIN Rails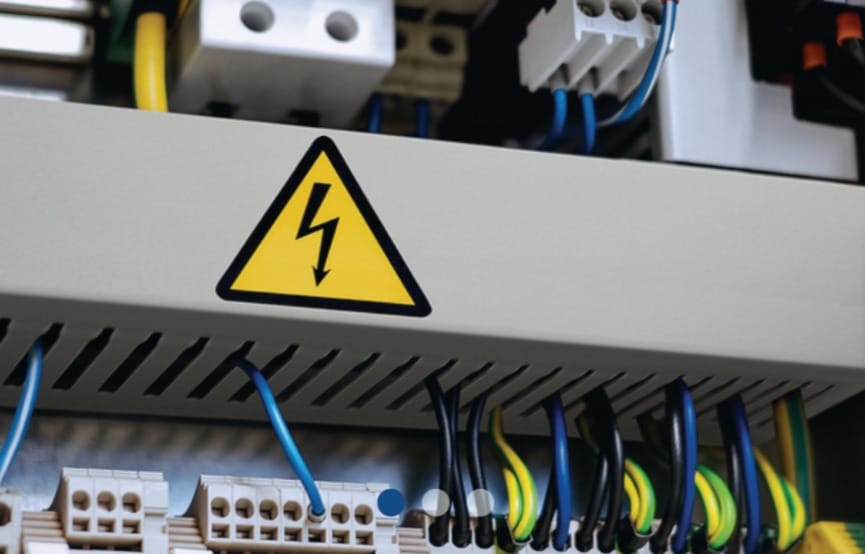 Meaning of DIN Rails Markings and Labels 
The marking system and labeling use metal and plastic tags to provide information about electrical components mounted on rails, such as device number, current rating, voltage rating, etc. The purpose of this system is to quickly locate specific electrical equipment in an extensive electrical system, especially in vast industrial and commercial settings. 
These markings and labels can come in various formats depending on specific applications. Adhesive labels, cable ties, engraved plates, and snap-on markers are all used as labels.
Common DIN Rail Markings & Labels 
Component Label:

The component label tells you about the voltage, part number, contact configuration, and current rating. 

Terminal Label:

The terminal label is attached to each terminal, indicating voltage rating, wire size, etc. 

Safety Label:

Safety labels warn workers and others about the potential dangers of high-voltage components.

Barcode Label:

The Barcode label is attached to a Terminal block and can be scanned to reveal information, such as voltage rating, wire size, the function of the terminal, etc. 

Certification Marking:

Certification marking tells you that the component is certified by testing agencies, such as TUV. 

Environmental Marking:

Environmental markings indicate that the component is used in different environments, such as high humidity, high or low temperatures, etc.
International Standards for DIN Rails 
The most common rail standard used internationally is DIN EN 60715, which has the following specifications:
7.5 mm to 15 mm height 

15, 32, or 35 mm width

Made of steel, aluminum, or copper 

Mounting holes at 5.2 or 5.3 mm
However, some countries use variations of this standard, depending on their industrial requirements.

Common Issues & Troubleshooting for DIN Rails 
The rail might get loose over time, and the vibrations can damage the equipment. If that happens, tighten the screws and fasten the rail securely.

Sometimes, the rails are loaded beyond their capacity, which can cause them to sag or break. Ensure you check the maximum capacity given by the manufacturer and adhere to it.

Extreme temperatures can also affect the mounting of rails by contracting or expanding them. Install your rails in an environment that falls within the range suggested by the manufacturer.
FAQs 
1. What types of devices can be mounted on DIN rails? 
Various devices can be mounted on rails, such as relays, contactors, circuit breakers, etc. Since they are made of steel or aluminum, DIN rails are strong enough to hold all these electrical components.
2. What is the difference between a top-hat DIN rail and a G-type DIN rail? 
The top-hat DIN rail is also known as T35 and is 35 mm from one edge to the other, with a channel depth of either 7.5 mm or 15 mm. On the other hand, the G-type rail is 32 mm from one edge to the other and has a deeper recess on one side.
3. Can DIN rails be painted? 
Yes, you can paint rails while following the manufacturer's directions. Make sure the surface is clean, and use suitable paint that doesn't damage it. Some manufacturers offer rails that are already painted.
4. Can DIN rails be used in outdoor environments? 
Yes, rails can be used outdoors, provided they have appropriate protections, such as an IP rating. IP-rated rails are protected from moisture, dust, and debris, which makes them work even in harsh outdoor conditions. It's always recommended to consult the user manuals before trying in extreme weather conditions. 
5. Can DIN rails be cut to size? 
Yes, rails can be cut to size in random or pattern cuts, depending on your requirements and settings. A random cut requires only one cut, while a pattern cut produces the same slot pattern from piece to piece.
6. What are the standard lengths of DIN rails? 
The standard length of rails usually lies between 1 to 2 meters. However, they can be customized to fit your requirements upon request. The specific measurement of a rail depends upon the available space and equipment size. 
7. What is the maximum weight that can be supported by DIN rails? 
Rails usually support 15-20 kg per meter, but it varies depending upon the manufacturer. If you want to put a heavy load on the rails, make sure it's properly distributed throughout the body. 
Summary 
As you have seen, DIN rails can be a game changer in any industry for efficiently arranging and managing electrical equipment. Since they are manufactured robustly, rails can support all devices without issues. 
If you're also looking for high-quality rails and support/brackets, look no further than Langir. Established in 2009, we have expanded rapidly to serve our customers with world-class rails, which come in various heights and widths to cater to all kinds of needs. Using steel and aluminum in the manufacturing process ensures that our DIN rails meet all international standards and last a long time.
So, book your order today by contacting us; you can request a quotation and customize your order too.