Alarm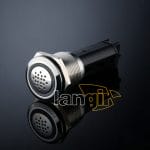 The Buzzer are designed for applications call attention and warnings, Stainless steel – available with LED illumination, functions custom configurations.
19mm diameter panel cutout
Multiple illumination voltage options
Multiple LED color options
Read more
Font Size:
List No.:
View Mode.:
Request An Instant Quote or Ask Free Samples For Your Electrical Products Now!
Don't hesitate to let us know what you're looking for and we'll get back to you soon!