Indicator
The indicator offers the same tamper resistance as the rest of our anti-vandal switches, with just the lamp indicator and no switch function.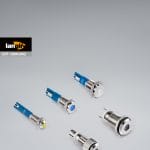 It also offers the same aesthetically appealing look and design as the rest of our anti-vandal switches.
There are multiple indicator diameters to choose from, starting at 6mm dia. It has a solder lug termination and either stainless steel or black body finish options. The lens colors include red, green or blue and there are multiple illumination voltage options to choose from.
Our anti-vandal lamp indicators are popular for use in kiosk applications, ticket dispensers and industrial-type applications.
Langir offers surface mount and through hole moisture sealed flexible light pipes and are available in different configurations, LED mounts, and lens caps. Flexible light pipes are typically used in custom applications where light needs to carefully navigate through existing components.
Read more
Langir's indicator range includes high-quality options from 6 mm all the way up to 30 mm.
Multiple panel cutout sizes: 6mm to 19mm dia.
Multiple illumination voltage options
Multiple LED color options
IP67 rated / IK10
Read more
Font Size:
List No.:
View Mode.:
Request An Instant Quote or Ask Free Samples For Your Electrical Products Now!
Don't hesitate to let us know what you're looking for and we'll get back to you soon!