L16T Anti vandal switch
L16T Anti vandal switch
L16T Anti Vandal Switch:
L16T anti vandal switch provides three-color design. The panel hole diameter is 16mm, and the dust-proof and moisture-proof grade is IP65. It offers a variety of options such as ring lighting, 1NO1NC circuit, stainless steel housing material and many LED color options, including RGB LED and backlight options.
L16T anti vandal switch can also provide laser etching or instantaneous etching. For convenience, you can also choose to add wire leads.
L16T anti vandal switch is characterized by easy cleaning, beautiful appearance, and suitable for high-end products.
Our L16T Anti vandal switches are widely used in kiosk applications, ticket vending machines and industrial applications.
We provides other high quality products like square bezel anti vandal switch, if you are interested in it, click here for more information.
Features:
Backlit
Tri-color
Long life, high reliability
Anti-Vandal IK09/ Sealed IP65
Illuminated and Non-Illuminated
Basic Info.
| | |
| --- | --- |
| Protection: | Waterproof, Dust-Proof |
| Feature: | Mechanical |
| Wiring: | Solder Lug |
| Application: | Home Appliance, Electronics, Industrial, Hotel, Commercial, Home |
| Type: | Normal Open |
| Number of Switch: | Single Control Switch |
* Base voltage on LEDs: 1.8V @ 20mA for Red, Yellow and Orange LED colors / 2.8V @ 20mA for Blue, Green and White LED colors
Type
L16T-F/ L16T-H
Illuminated Options
Non-Illuminated/ Ring Illuminated/ Dot Illuminated/ Backlit
Max. Panel Thickness:
Max. 0.394″ (10.0mm)
Kind
Single-pole on-off Switch
Certification
ISO9001, CE, ISO14001
Transport Package
Carton
Usage
Control Button, Start Button, Control Switch
Specification
42x23x32cm
Terminal
Solder lug (1.8X0.4)
Max. Switch Rating
Ith: 3A Ui: 250VAC
Contact Resistance
≤50mΩ
Insulation Resistance
≥1000mΩ
Dielectric Strengh
2000VAC
Operation Temp.
-20°C ~ +55°C
Mechanical Life
500,000cycles(max)
Electrical Life
30,000cycles(min)
Contact Material
Silver Alloy
Torque
5~14Nm
Operation Pressure
approx. 3~5N
Protection
IP65/ IK09
Material
Switch Assembly
UL94V-0 rated Polyamide (Nylon)
Tags
Copper Alloy
Terminals
Copper Alloy
Switch Body & Actuator
Stainless Steel/ Anodized Aluminum
Lens and Lens Body
Polycarbonate
Internal Seal
Silicone
O Ring
Nitrile
Color
Type
LED (ratings @ 20mA)
Color
Luminous Intensity (mcd)
160
200
150
520
220
2000
Forward Volatge
1.8~2.6
2.8~3.6
Illumination Voltage
no suffix No resistor fitted. An appropriate resistor must be series connected by the user. Voltages as above.
3.3V/ 6V/ 12V/ 24V/ 36V/ 110V/ 220V
Life
Approx. 40, 000hours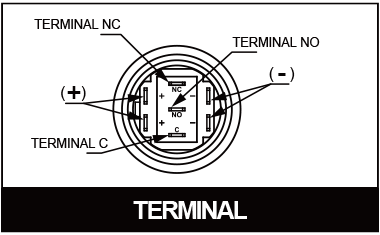 C = Common
NO = Normally open
NC = Normally closed
Terminals (-) and (+) used with Illum. option only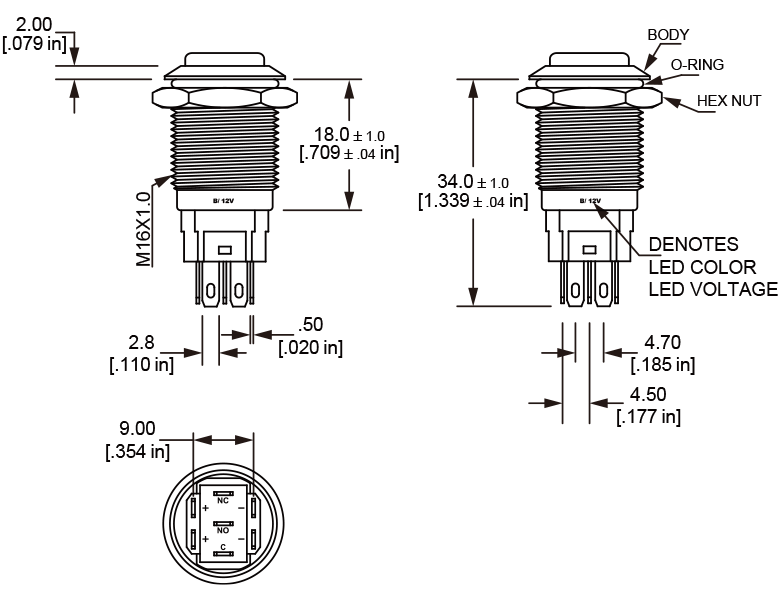 Applications / Markets:
Complementary products: