L19Y High current anti vandal switch
L19Y High current Anti vandal switch for Marine and Automotive
L19Y high current anti vandal switch from Langir:
L19Y high current anti vandal switch is perfect for marine and automation use. Langir offers attractive, robust and durable switch, available with different bushing diameters(12 ~25mm), actuator shapes, available with LED illumination and engraving, protection IP67 / IK09.
L19Y high current anti vandal switches have no moving parts and reduce wear. In addition, they can be very efficient heat dissipation, and corrosion resistance, dustproof, waterproof grade up to IP68.
This anti-vandal switch features a easy clean, aesthetic look for high end products.
L19Y high current anti vandal switches are suitable for a wide range of applications, including industrial control products, communication equipment and medical equipment. They are easy to install. The switches from Langir are widely tested and customers can feel confident about the performance of these products in harsh environments. From salt spray test to physical test, the switch has obtained IP68 certification, which is part of IEC 60529 standard certification.
We also provides other high quality products like L22T anti vandal switch, if you are interested in it, click here for more information.
Features:
19mm diameter panel cutout
Variety LED option
Dot, ring or symbol illumination available
Multiple actuator options
Pilot indicator option
IP67 rated,
Momentary Off-(On), Latching Off-On
Electrical Rating: 21A, 24VDC
Mechanical Life: 1,000,000 Cycles
Electrical Life: 50,000 Cycles
Contact Resistance: 50mΩ Max.
Insulation Resistance: 1000 MΩ Min.
Dielectric Strength: 2,000VAC
Operating/Storage Temperature: -20°C to 55°C
Travel: 1.50mm
Moisture Protection: IP67
Actuation Force: 4N
Panel Thickness: 1-11mm
Mounting Nut Torque: 5-14Nm
NOTES:
( ) denotes function is momentary
* Cable length 1200mm
** The base voltage for rating
*** 5 ICON labels included check backlit label kit page, No illumination options(code examples: L19YLCMSWC)
Panel Cutout / Illuminated Options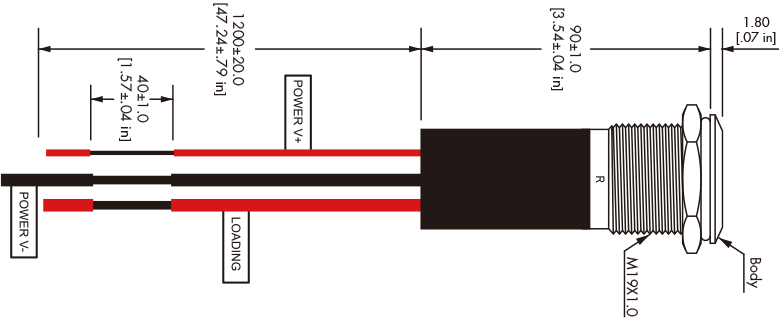 Applications / Markets:
Complementary products: