L22T Anti vandal switch
L22T Anti vandal switch
L22T anti vandal switch:
L22T anti vandal switch provides a tri-color design. The panel cut-out size is 22mm diameter and it provides IP65 rating for dust and moisture protection. It offers multiple options such as ring illumination, 1NO1NC or 2NO2NC circuits, stainless steel housing material, and many LED color options which also includes an RGB LED and Backlit option.
L22T anti vandal switches are widely used in the public domain, usually far away from supervision or monitoring. It has a wide range of applications, from elevators and elevators to customer service kiosks and secure access systems.
In most cases, L22T anti vandal switches are installed in areas exposed to wind and rain for applications such as external security systems. This means that the material of the L22T anti vandal switch must not only withstand frequent use, but also withstand harsh environments. The use of appropriate materials is essential for long-term and reliable protection of the precision electronic components in the equipment.
We provides other high quality products like 22mm plastic piezo switch, if you are interested in it, click here for more information.
Features:
Backlit
Tri-color
Long life, high reliability
Anti-Vandal IK09/ Sealed IP65
Illuminated and Non-Illuminated
| | |
| --- | --- |
| Protection: | Durable, Waterproof, Dust-Proof |
| Feature: | Mechanical |
| Wiring: | Solder Lug |
| Application: | Home Appliance, Electronics, Lighting, Industrial, Apartment/Villa, Hotel, Commercial, Parking Device |
| Type: | 2no2nc |
| Number of Switch: | Double Control Switch |

* Base voltage on LEDs: 1.8V @ 20mA for Red, Yellow and Orange LED colors / 2.8V @ 20mA for Blue, Green and White LED colors
Type
L22T/ L22T-H
Illuminated Options
Non-Illuminated/ Ring Illuminated/ Dot Illuminated/ Backlit
Max. Panel Thickness:
Max. 0.394″ (10.0mm)
Kind:
Double-pole on-off Switch
Certification:
ISO9001, CE, ISO14001
Transport Package:
Carton
Usage:
Control Button, Control Switch
Terminal
Solder lug (1.8X0.4)
Max. Switch Rating
Ith: 3A Ui: 250VAC
Contact Resistance
≤50mΩ
Insulation Resistance
≥1000mΩ
Dielectric Strengh
2000VAC
Operation Temp.
-20°C ~ +55°C
Mechanical Life
500,000cycles(max)
Electrical Life
30,000cycles(min)
Contact Material
Silver Alloy
Torque
5~14Nm
Operation Pressure
approx. 3~5N
Protection
IP65/ IK09
Material
Switch Assembly
UL94V-0 rated Polyamide (Nylon)
Tags
Copper Alloy
Terminals
Copper Alloy
Switch Body & Actuator
Stainless Steel/ Anodized Aluminum
Lens and Lens Body
Polycarbonate
Internal Seal
Silicone
O Ring
Nitrile
Color
Type
LED (ratings @ 20mA)
Color
Luminous Intensity (mcd)
160
200
150
520
220
2000
Forward Volatge
1.8~2.6
2.8~3.6
Illumination Voltage
no suffix No resistor fitted. An appropriate resistor must be series connected by the user. Voltages as above.
3.3V/ 6V/ 12V/ 24V/ 36V/ 110V/ 220V
Life
Approx. 40, 000hours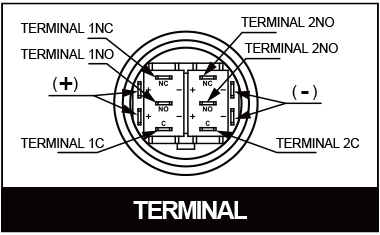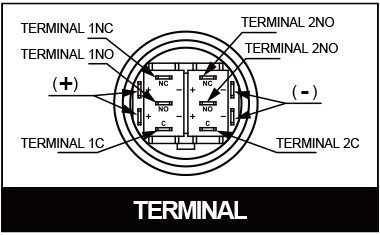 C = Common
NO = Normally open
NC = Normally closed
Terminals (-) and (+) used with Illum. option only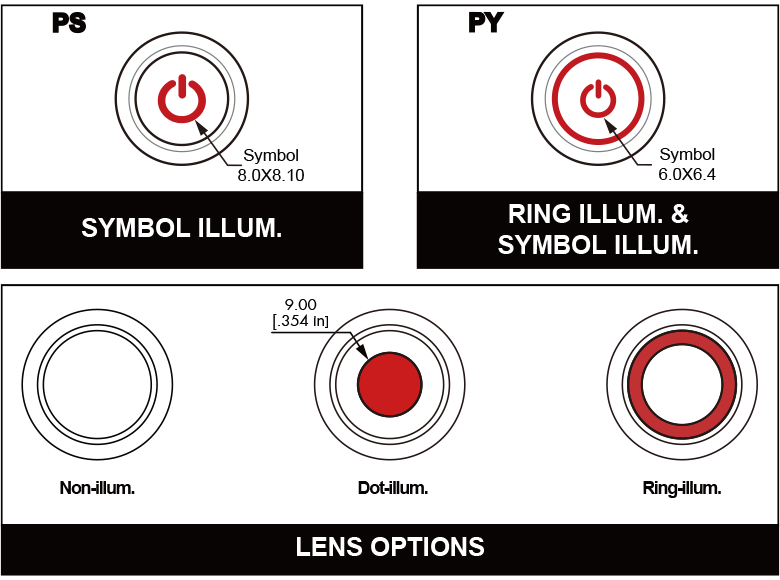 Applications / Markets:
Complementary products: