L19B High current anti vandal switch
L19B High current anti vandal switch
L19B high current anti vandal switch from Langir:
L19B high current anti vandal switch provided by Langir is one of the most intensive components in electronic products.
It is a small size design and the actuator helps to limit the distance between the switch and the panel, thus minimizing damage caused by screwdrivers or other slim tools while simplifying operation.
Anti vandal switches, also known as vandalism switches, are attached to the panel using front mounting technology, further ensuring a smooth outer profile of the switch by securely hiding the retaining nut (known as the jam nut) behind the panel.
The actuator is the most frequently used part of the L19B high current anti vandal switch, and its shape design usually reduces the risk of misoperation and damage caused by potential saboteurs.
We also provides other high quality products like L19Y high current anti vandal switch, if you are interested in it, click here for more information.
Distinctive features:
The Anti vandal switches offer attractive, robust and durable switches, available with different bushing diameters, actuator shapes, bushing and actuator materials.
Features:
Long life, high reliability
Anti-Vandal IK09/ Sealed IP65
Illuminated and Non-Illuminated
Contact type: SPDT (NO+NC), SPST (NO), SPST (NC)
Big range current: 3A 5A 8A 10A (15A) 16A 20A (21A)
Snap action, compact design, suit for small space
| | |
| --- | --- |
| Protection: | Durable, Explosion-Proof, Waterproof, Dust-Proof |
| Feature: | Flat |
| Wiring: | Single Live Line |
| Principle: | Resistive |
| Application: | Home Appliance, Electronics, Lighting, Industrial, Apartment/Villa, Hotel, Commercial, Home |
| Type: | Normal Close |

Notes:
* Base voltage on LEDs: 1.8V @ 20mA for Red, Yellow and Orange LED colors / 2.8V @ 20mA for Blue, Green and White LED colors
Type
L19B-F
L19B-R
L19B-D
Illum. Options
Non-Illuminated
Ring Illuminated
Dot Illuminated
Max. Panel Thickness
0.394″ (10.0mm)
Usage
Control Button, Reset Button, Control Switch
Certification
ISO9001, CE, CCC, RoHS, Reach
Kind
Double-pole on-off Switch
Detection Method
Retro-reflective Mode
Terminal
Quick connect terminal (4.75 x 0.5 and 6.30 x 0.5)/ Screw
Max. Switch Rating
3A 5A 8A 10A 15A(16A) 20A(21A)/ 250VAC, 125VAC 0.6A/ 125VDC 0.3A/ 250VDC
Contact Resistance
≤25mΩ
Insulation Resistance
≥100mΩ
Dielectric Strengh
Between non-consecutive terminals 1,000Vrms, 50/60Hz for 1min
Between non-current carrying metal parts and each terminal 1,500Vrms, 50/60Hz for 1min
Between ground and each terminal 1,500Vrms, 50/60Hz for 1min
Shock Resistance
Detruction:O.F.>0.5N: 1000m/s2 (approx. 100g), O.F.≤0.5N: 400m/s2 (approx. 40g)
Malfunction:O.F.>0.5N: 200m/s2 (approx. 20g), O.F.≤0.5N: 100m/s2 (approx. 10g)
Vibration Resistance
10 – 50Hz, 1.5mm Double Amplitude
Operation Temp.
-25℃ ~ +85℃
Mechanical Life
2,000,000cycles
Electrical Life
>50,000cycles
Contact Material
Silver Alloy
Torque
5 ~ 14Nm
Operation Pressure
approx. 10N
Protection
IP65/ IK09
Material
Actuator
Stainless Steel
Body
Stainless Steel
Base
PA
Color
Type
LED (ratings @ 20mA)
Color
Luminous Intensity (mcd)
160
200
150
520
220
2000
Forward Volatge
1.8~2.6
2.8~3.6
Illum. Voltage
no suffix No resistor fitted. An appropriate resistor must be series connected by the user. Voltages as above.
6V/ 12V/ 24V/ 36V/ 110V/ 230V
Life
Approx. 40, 000hours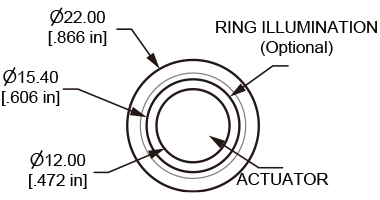 Panel Cutout / Illuminated Options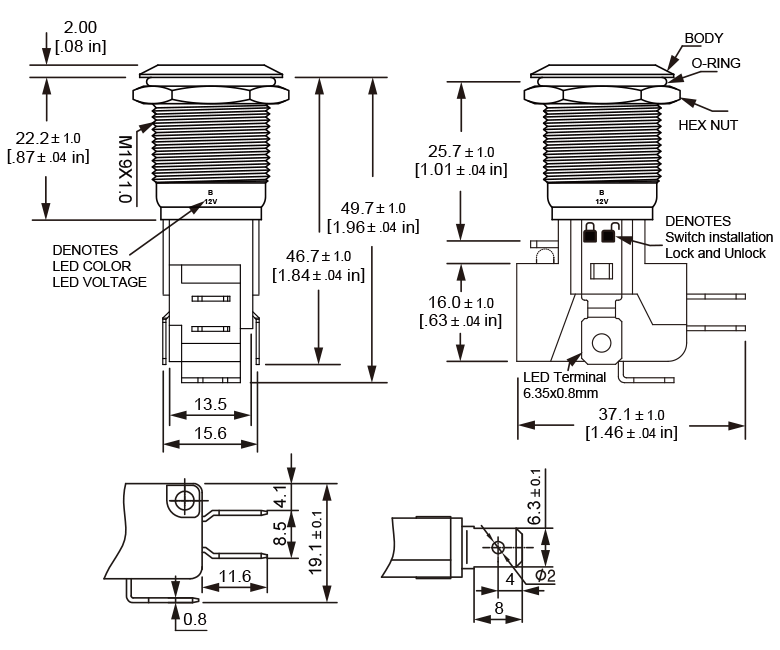 Applications / Markets:
Complementary products: