Ultra Short Anti-vandal switch
The L19U, L22U, and L25U Ultra Short Anti-vandal switches are button switches with anti-damaged functions.
The panel openings are 19mm, 22mm, and 25mm in diameter and provide IP65-grade dust and moisture protection.
It offers a variety of options, such as ring lighting, stainless steel housing materials, and many LED color options, and can provide laser etching. For convenience, you can also choose to add wires.
Ultra Short Anti-vandal switch
19, 22 or 25mm diameter panel cutout
Ring illumination available
Soldered wire leads optional
Specifications
Electrical Rating: 50mA, 24VDC
Mechanical Life: 1,000,000 Cycles
Electrical Life: 50,000 Cycles
Contact Resistance: 50mΩ Max.
Insulation Resistance: 1000 MΩ Min.
Dielectric Strength: 2,000VAC
Operating/Storage Temperature: -20°C to 55°C
Travel: 0.5mm
Moisture Protection: IP67
Actuation Force: 4N
Panel Thickness: 1-3mm
Mounting Nut Torque: 5-14Nm
Order Code
Notes:
* Base voltage on LEDs: 1.8V @ 20mA for Red, Yellow and Orange LED colors / 2.8V @ 20mA for Blue, Green and White LED colors
L19U Ultra Short Anti-vandal switch
L22U Ultra Short Anti-vandal switch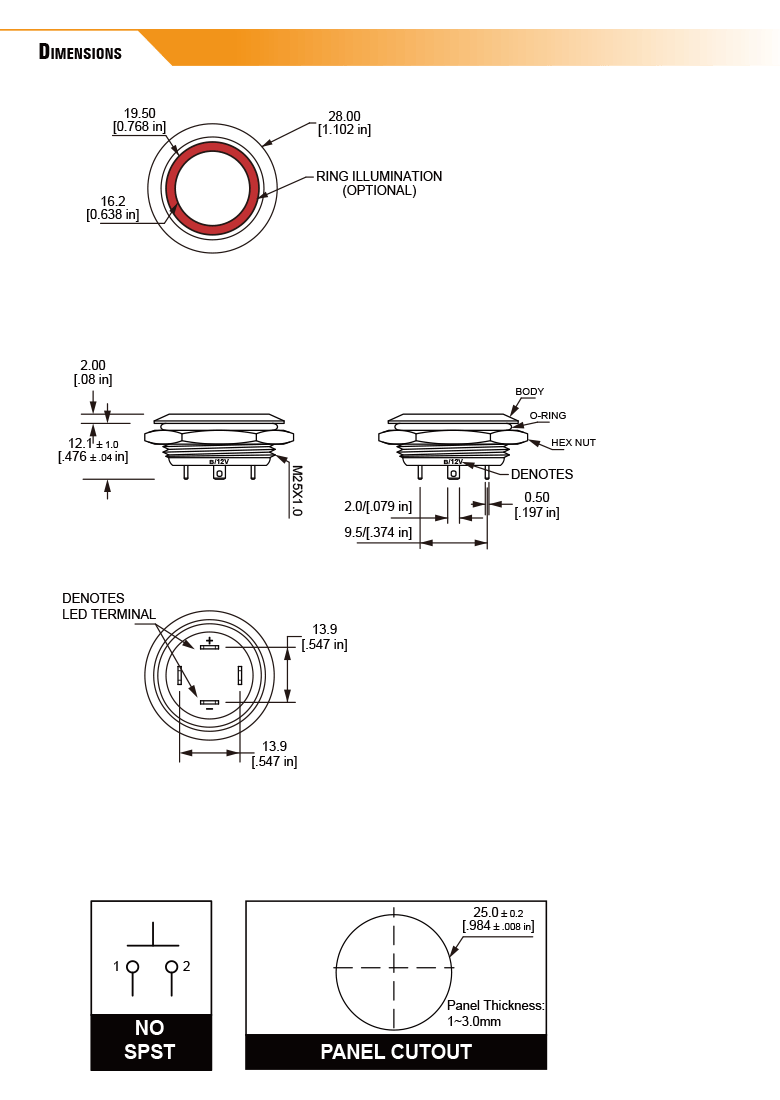 L25U Ultra Short Anti-vandal switch
Applications / Markets