L19 Anti vandal switch
L19 Anti vandal switch
L19 Anti Vandal Switch:
L19 anti vandal switch from Langir is designed for the designers of equipment used in public places or remote areas. These devices usually have a high risk of theft or intentional damage. The tamper proof switch is very suitable for applications such as access control, key to talk equipment, service station equipment and ticket machines or vending machines.
In addition to the anti-damage function, the L19 anti vandal switch also has various features of other anti-destructive switches, including light weight, IP65 protection and corrosion resistance. Considering that the equipment equipped with this switch is usually installed outdoors, it can also withstand various extreme environmental conditions.
The anti vandal switch offer attractive, robust and durable switch, available with different bushing diameters(12 ~25mm), actuator shapes, available with LED illumination and engraving, Protection IP65 / IK09.
This anti-vandal switch features a easy clean, aesthetic look for high end products.
We provides other high quality products like square bezel anti vandal switch, if you are interested in it, click here for more information.
Features:
Variety of color
Momentary/ Alternated
Long life, high reliability
Anti-Vandal IK09/ Sealed IP65
Illuminated and Non-Illuminated
Basic Info.
| | |
| --- | --- |
| Protection: | Durable, Waterproof, Dust-Proof |
| Feature: | Mechanical |
| Application: | Home Appliance, Electronics, Lighting, Industrial, Hotel, Commercial, Home, Security Device |
| Type: | Normal Open Normal Closed |
| Number of Switch: | Single Control Switch |
| Usage: | Control Button, Start Button, Control Switch |
| Kind: | Single-pole on-off Switch |
| Certification: | ISO9001, CE, CCC, ISO14001 |
Notes:
* Base voltage on LEDs: 1.8V @ 20mA for Red, Yellow and Orange LED colors / 2.8V @ 20mA for Blue, Green and White LED colors
** 5 ICON labels included check backlit label kit page, No illumination options(code examples: L19LM1SW)
Type
L19-F
L19-F-R
L19-F-D
Illuminated Options
Non-Illuminated
Ring Illuminated
Dot Illuminated
Max. Panel Thickness:
0.394″ (10.0mm)
Terminal
Screw and Solder lug (2.8 x 0.5)
Max. Switch Rating
Ith: 5A Ui: 250VAC
Contact Resistance
≤50mΩ
Insulation Resistance
≥1000mΩ
Dielectric Strengh
2000VAC
Operation Temp.
-20°C ~ +55°C
Mechanical Life
1,000,000cycles
Electrical Life
>50,000cycles
Contact Material
Silver Alloy
Torque
5 ~ 14Nm
Operation Pressure
approx. 3 ~ 8N
Protection
IP65/ IK10
Material
Actuator
Stainless Steel/ Anodized Aluminum
Body
Stainless Steel/ Anodized Aluminum
Base
PA
Color
Type
LED (ratings @ 20mA)
Color
Luminous Intensity (mcd)
160
200
150
520
220
2000
Forward Volatge
1.8~2.6
2.8~3.6
Illumination Voltage
no suffix No resistor fitted. An appropriate resistor must be series connected by the user. Voltages as above.
3.3V/ 6V/ 12V/ 24V/ 36V/ 110V/ 230V
Life
Approx. 40, 000hours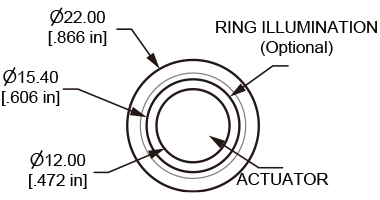 Panel cutout & Illuminated options

Applications / Markets:
Complementary products: