V19 Mechanical Anti vandal switch
The mechanical anti vandal switch offer attractive, robust and durable switch, available with different bushing diameters(12 ~25mm), actuator shapes, Protection IP65 / IK09.
This mechanical anti vandal switch features a easy clean, aesthetic look for high end products.
Our mechanical anti vandal switches are popular for use in kiosk applications, ticket dispensers and industrial-type applications.
Also comes in black anodized finish.
V19 Anti vandal switch
Variety of Material
1,000,000 cycles momentary
Domed/ Flat/ High Flat Actuator
Anti-Vandal IK09/ Sealed IP65
Momentary: Means that when you push switch and then move your finger, the actuator will back to the original position.
Mechanical Anti vandal switch Basic Info.
| | |
| --- | --- |
| Protection: | Waterproof |
| Feature: | Mechanical |
| Wiring: | Single Live Line |
| Principle: | Resistive |
| Application: | Electronics, Lighting, Industrial |
| Type: | Normal Open |
| Usage: | Control Button, Start Button, Reset Button |
| Certification: | |
| Specification: | |
| Kind: | Single-pole on-off Switch |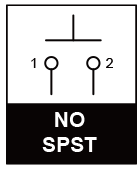 Type
V19-F
V19-B
V19-H
Actuator Options
Flat
Domed
High Flat
Max. Panel Thickness:
0.394″ (10.0mm)
Terminal
Screw / Solder lug (2.8 x 0.5)
Max. Switch Rating
2A/ 48VDC
Contact Resistance
≤50mΩ
Insulation Resistance
≥1000mΩ
Dielectric Strengh
2000VAC
Operation Temp.
-20°C ~ +55°C
Mechanical Life
1,000,000cycles
Electrical Life
>50,000cycles
Contact Material
Silver Alloy
Torque
5 ~ 14Nm
Operation Pressure
approx. 5.5N
Protection
IP65
Material
Actuator
Stainless Steel/ Nickel plated brass/ *Gold plated Brass/ *Anodized Aluminum
Body
Stainless Steel/ Nickel plated brass/ *Gold plated Brass/ *Anodized Aluminum
Base
PBT
Descriptions/ Panel cutout
Complementary products: